Themes from the Future of Medicine (Non-CME)
Description
The session will cover three themes from the future of medicine: artificial intelligence/machine learning, personalized medicine in diagnostics and therapeutics, and genomics and genome manipulation. At the end of his talk, Dr. Mukherjee will address the associated costs, benefits, insurance, and reimbursement as we advance these new technologies.
Learning Objectives
Identify ways that artificial intelligence/machine learning is transforming the practice of medicine
Describe how personalized medicine is being used in cancer and other diseases
Recognize the impact of genomics and genome manipulation in medicine
---
Speakers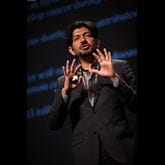 Siddhartha Mukherjee is a pioneering physician, oncologist, and author who has redefined our public discourse on human health, medicine and science. A profoundly influential voice in the scientific community, he is best known for his books, The Emper...